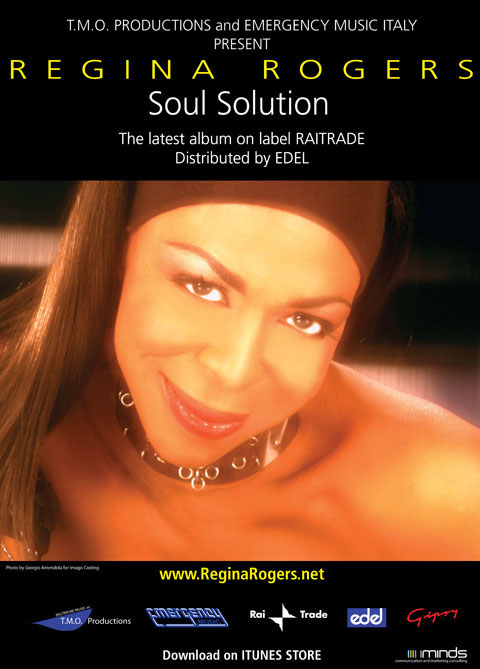 After the outstanding performance in Italy (Rome) at the former slaughterhouse in Testaccio for the Ford Fusion Event, and after charming the thousands of guests with her rhythm, voice and sensuality, Regina Rogers announces a return to the scene with a new and ambitious music project.
Pop, dance and soul are the three keywords which aptly describe the versatility of this artist.
The project, named "Soul Solution" and produced by Tony Massarutto for T.M.O. Productions and EMERGENCY MUSIC ITALY, has been created between Italy and the U.S. In contrast to her previous releases, which were predominately dance, this last work shows a much more mature Regina Rogers, and proposes a high-quality pop product that is rich in a variety of contemporary sounds, including black, house and electro.
All the lyrics have been written by herself, as is some of the music, including the song "Soul Solution".
The crowning of her return to the music scene, the track "Angel Love", taken from her new project, has been included in two important compilations, "DANCE NEWS NR. 8, HIT MANIA" and "EURO DANCE NR.14". The vinyl single "Soul Solution" also contains the track "Stay", which was written and co-produced by Enrico Zardini. Two videos have also been recorded for these two tracks, both of which were filmed in Madonna's former Miami villa and directed by Giacomo De Simone.
Executive Producers
Tony Massarutto and Piero Colasanti for T.M.O. Productions and Emergency Music Italy, Rome Italy

Additional Producer
Baltimore Music Inc, Maryland USA

Produced And Arranged
Steve Galante for Down in Hollywood Production, Rome Italy and Michelangelo Studios Montreal Quebec, Canada

Re-mix and arranged on tracks
2 - 5 - 7 - 10 - 17 by Ricky Mazzamauro and Marc D'ambrogio for Electroblues at Bapsy & Seal Studios

Produced and arranged
on tracks: 13 by Max Minoia extracted from Pop and Miami Version

Music produced
by Pascal Fajanò and Pascal Martinez at Miami Studios, Miami beach Florida, U.S.A. and Recoa Studios

Re-mix and arranged on tracks
12 by Frank Minoia and Maurizio Baiocchi

Produced and Arranged on tracks
8 - 10 by Steve Galante, Paolo Casa and Massimo Ruocco

Produced and Arranged on track
1 by Sasà Flauto at Olgiata Musicduo and Plastic Studio, Rome Italy

Promotion Coordinator
Giuditta Guzzi

Worldwide Exploitation
Corrado Bacchelli for MKM Europe

Musicians
Drums
Alessandro Canini, Max Minoia

Percussion
Josè Ramirez

Bass
Fabio Penna, Dino Kappa, Frank Minoia

Guitar
Paolo Giovenchi, Max Minoia, Sasà Flauto

Arrangements keyboards & programming for tracks
4 - 6 - 8 -9 - 11 by Steve Galante

Arrangements keyboards & programming for tracks
1 by Sasà Flauto

Arrangements keyboards & programming for tracks
2 - 3 - 5 - 10 - 13 - 15 - 16 by Ricky Mazzamauro and Marco D'Ambrogio

Arrangements keyboards & programming for tracks
14 by Max Minoia

All lead and background vocals arranged
by Steve Galante at Down in Hollywood Studio, Rome Italy and Sasà Flauto for tracks 1

Back vocals
Steve Galante, Mary Pareo, Natasha Maimone, Vincenzo Thoma and Simona Peron, Regina Rogers, Deborah Johnson, Charles Layter

Featuring
by Kevin Ettienne

Brass arranged for tracks
5 - 14 by Pascal Fajanò and Pascal Martinez, for track 10 by Massimo Ruocco and Ricky Mazzamauro, for tracks 5 by Marco Guidolotti

Soprano saxophone and Tenor Saxophone
Marco Guidolotti

Baritone Saxophone
Elvio Ghigliordini

Trumpet
Andy Gravish, Max Guerra , Giancarlo Ciminielli

Trombone
Carmine Pagano, Roberto Schiano

Strings Arrangements
Euro Ferrari

Recorded and engineered
Steve Galante at Down in Hollywood Studio, Rome Italy and Michelangelo Studios, Montreal Quebec, Canada. Ricky Mazzamauro and Marco D'ambrogio at Bapsy & Seal Studios, Pascal Fajanò and Pascal Martinez at Miami Studios, at Recoa Studios, Miami beach Florida, USA Jesus Torres at Metropolis Studio, London UK

Project assistants
Euro Ferrari, Marcel Pellitteri, Maurice Di Francesco and Josè Martillotta for T.M.O.

Productions
Manager Coordinator
Mauro Buttinelli for Rai Trade

Mastering
Sterling Sound, NY, USA
Steve Galante at Down in Hollywood Studio, Rome Italy and Michelangelo Studios, Montreal Quebec, Canada and Fabrizio De Carolis at Reference Mastering, Rome, Italy
Communication
Joel Tilanti for iMindsGroup.com

Graphic Design
Dario Di Vivo for iMindsGroup.com
Giovanni Ricco for iMindsGroup.com

Photo and visual coordinator
Giorgio Amendola

Stylist
Gianni Serra

Art Director
Antony Tallarico

Hair and Make up stylist
Fabrizio Narducci, Filippo Alessi Giardina, Tania Alicino

Opticians
Marco Giannetti and Antonello Coltellacci for Vasari Rome

Location Manager for Madonna's Miami villa, U.S.A.
Maurizio Miam - Eric Barros

Video
Clips directed and filmed by Giacomo De Simone

Backstage
Paolo Garlando and Alexander Risuleo

Lawyers
Leopoldo Lombardi for "Lombardi Studios" and Valerio Vitale for "Vitale & Partners", Rome, Italy - L. A. U.S.A.

Visit the Official Site of Regina Rogers
www.reginarogers.net